Many people would like the youthful appearance that a facelift can provide but don't have time for the lengthy recovery process after surgery. For men and women looking for a nonsurgical facelift alternative, Silhouette InstaLift™ offers a welcome solution.
Contact us online or call our office in Noblesville, Indiana to learn more about your options for nonsurgical facial rejuvenation. Our team of cosmetic surgeons has helped thousands of men and women from the state of Indiana feel confident in their appearance through facial rejuvenation procedures.

About Silhouette InstaLift™
If evidence of facial aging is beginning to show but you're not ready to commit to a facelift, InstaLift™ may be the answer. The early signs of jowls, sagging skin or loss of facial volume can detract from your appearance or take a toll on self-image, but cosmetic surgery may not be a preference or an option for you.
Silhouette InstaLift™ is a nonsurgical facial rejuvenation procedure that offers immediate results combined with very little downtime. By inserting absorbable suspension sutures into key points of the face, your cosmetic surgeon can provide a subtle lift to facial features for a rejuvenating effect.
During your initial consultation, your cosmetic surgeon will discuss your aesthetic goals with you, and explain the degree of improvement you can expect from this nonsurgical facial rejuvenation procedure. Depending upon your cosmetic concerns, your cosmetic surgeon may suggest including BOTOX® Cosmetic & Xeomin® or laser skin resurfacing to help minimize the appearance of wrinkles and revitalize your complexion.
5 Big Benefits of a Silhouette InstaLift™
No Surgery
No Downtime
No Fillers
Your Natural Collagen Boosts Volume
Results May Last Up To 2 Years
Your Silhouette InstaLift™ Procedure
Using fully absorbable sutures with small, smooth, bidirectional cones, your cosmetic surgeon can lift the midface to restore a more youthful appearance to the face.
To begin, a needle is used to place the suture in the tissue layer directly under the skin. By harnessing the opposing direction of the cones to compress and fix the loose facial layer, the face is lifted and any skin laxity is tightened for a more revitalized result.
But the lifting is only half of the story. The long-term result is the most exciting reason that this innovative procedure is so successful. A process of biological fixation occurs as the cones are encapsulated by your skin's natural collagen. Over time, this result is maintained by your own tissue and no longer depends on the InstaLift™ sutures.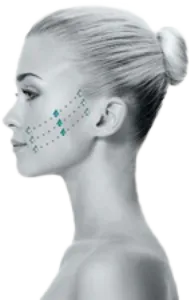 The third benefit of Silhouette InstaLift™ is the enhanced facial contouring it offers by naturally stimulating the rebuilding of your own collagen. As collagen production progresses, the skin takes on a more vibrant texture. An in-office procedure, InstaLift™ can be done in as few as 45 minutes under local anesthesia.

Your Recovery & Results
After you InstaLift™ procedure, you can expect to see immediate results, which will continue to improve over time. You can see examples in our photo gallery.
Some people may experience slight bruising or swelling following the nonsurgical treatment, which should resolve within 2 to 3 days. You should be able to resume all your normal activities by the next day.

Schedule Your Consultation
To take the first step toward looking and feeling your best with Silhouette InstaLift™, contact us online or call our office today.